Gissa vems öga? ;)
---
Demi och vän
---
Demi- 'Jag älskar alla mina Lovatics!'
OMG YAY, hon är tillbaka på twitter!
---
Demi och Wilmer tweetar varandra!
Aae <3
---
Demi GIFS
---
Lucy Hale twittrar om Demi!
En av de bästa Hollywood-mode stylister, som också är en vän av Demi skrev följande meddelande på Twitter:
"Riktigt trevlig middag med min boo (jag vet inte hur man ska översätta det svenska) @ddlovato. Non-stop skratt och god mat! ♥ Den här tjejen! :-)"
Och ett fan frågade Lucy Hale, stjärnan från Pretty Little Liars, om hon gillade Demi, och hon svarade:
---
LOVATICS MAGAZINE!
---
MixTV gör en lista på de bästa albumen av 2011
02. Florence And The Machine: Ceremonials
04. Colbie Caillat: All Of You
05. Lady Gaga: Born This Way
06. Michael Buble: Christmas
07. Lenny Kravitz: Black And White America
08. Britney Spears: Femme Fatale
10. Coldplay: Mylo Xyloto
11. Red Hot Chilli Peppers: I'm With You
12. Rihanna: Talk That Talk
13. Kelly Clarkson: Stronger
15. Avril Lavigne: Goodbye Lullaby
16. Selena Gomez: When The Sun Goes Down

17. Demi Lovato: Unbroken
18. Justin Bieber: Under The Mistletoe
19. Jessie J: Who You Are
20. Jennifer Lopez: Love?
---
Demi i TWIST MAGAZINE [Scans, February 2012]
---
Dejtade Demi och Travis?
Ett fan sa typ 'Så Demi och Travis dejtar.. Jag älskar Demi!' Och Travis svarade med en smiley.
Men Demi skrattade åt ryktet:
---
Demi och Travis Clark [BILDBOMB]
---
Vem hade finast håruppsättning? RÖSTA
---
Travis Clark pratar om Demi!
Spola fram till 06:45!
---
Joe- 'Det är svårt att glömma Demi'
Intervjuare
: Du
prisade
Demi
senaste
CD.
Hur kände du dig
när du lyssnar på
?
Joe Jonas
:
Jag är glad att
hon hade
det stöd
han behövde
,
och att hon
är lycklig
nu.
Demi
är speciell
för mig.
I
: Du
är typen som
blir
vän med
ex?
JJ
: Ja,
det är viktigt att
upprätthålla en god
vänskap.
Jag hade tur
nog att ha
befriended
ett par
ex
.
Jag är cool
med dem
(skratt).
Om det
beror på att vi
daterat
till
en anslutning.
Det är svårt
att säga adjö
för alltid.
I
:
Vilken typ av
pojkvän
är du?
JJ
:
Jag behandlar
flickan
som en prinsessa
,
med respekt.
Jag
pendlar från
var du är
på turné
bara för att se
den.
Min flickvän
är alltid
högsta prioritet
på min
dagordning.
I
: Har du någonsin
gråtit
för en
flickvän?
JJ
:
Ja, det
hände
ett
par gånger
(skratt).
Det är en
typ av erfarenhet
som du har att
gå.
På den tiden
, hjälper
musiken
att undkomma
sorg.
---
Back To Twitter Demi trendade
---
Bilder från M JONES PHOTOSHOOT 2011 för Seventeen Magazine [NYA]
---
DAGENS FRÅGA: Vilken stil gillar ni bäst? RÖSTA!
---
Niall har en liten förälskelse på Demi!
---
DAGENS...
GIF:
BILD:
VIDEO:
QUOTE:
"It's amazing what you can hide, just by putting on a smile" ~ Demi Lovato
---
Demi i The Beauty Book [SCANS]
---
Skyscraper spelas på American Idol
Hon är bipolar, som Demi, och jag tycker att hon är en jätte vacker och stark tjej! Lycka till!
Spola fram till 3:05
---
LovaticsAreProudOfDemi och Happy Lovatics Day trendade idag!
---
Demetria Lovato Is Our Everything trendade!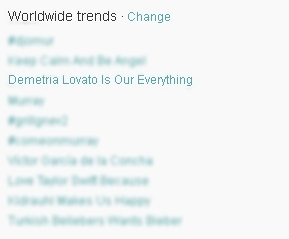 ---
Demi tillbaka på twitter!
Demi kom på twitter för att svara på några lyckliga fans frågor, som hade skickats in till 17 magazine. Nu är hon tillbaka på sin pause.
---
HAPPY LOVATICS DAY!
Jag vill önska alla mina läsare en glad lovatics day! Hoppas ni har haft det bra.
Kan inte fatta att det är den 28 januari 2012.. Ett ÅR sen Demi kom ut ur behandlings hemmet. Ett år av hälsa. Ett år av glädje. Ett år av att tillhöra Lovatics familjen. Jag är så så stolt över hur långt hon har kommit. Från att skära och svälta sig själv, till att turnera och sälja hits. Det finns en anledning till att hon inspirerar så många människor, och det är hennes STYRKA. Min inspiration, och miljontals andras... Demi Lovato.
---
Demi stylist pratatr om Demis stil
---
FALSKT RYKTE: Demi är tillbaka i rehab
LÅT ER INTE LURAS!
Ett rykte om att Demi har åkt in till rehab för att behandla hennes alkohol och drog problem är falska. Den personen som egentligen åkte in var DEMI MOORE. Våran ängel mår bra. :)
---
Demi 2011 People Magazine photoshoot [NYA] [BILDER]
---
Demi i J-14 MAGAZINE [Februari 2012]
---
VILKET ÅR HADE DEMI BÄST STIL? [DAGENS FRÅGA]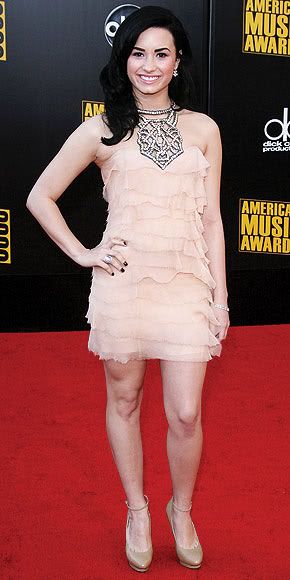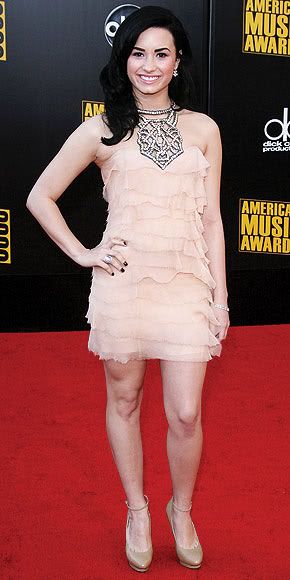 ---
Demi får så mycket HAT på twitter!
Efter att den här bilden kom ut på internet sp har Demi fått så mycket hat, att det inte är sant. Ord som "slut, whore, bitch" upprepas och vi Lovatics förstår väl hur mycket de orden skär på Demi. Nu har hon tagit en paus från twitter och jag vet inte hur lång tid det kommer ta innan hon kommer tillbaka.
Hon twittrade:
"Can't please everyone." Och...
"Twitter break. It's for the best actually. Who allows me to have this thing anyways?!!! I just get myself in trouble! Haha. Anyway... BYE!"

KOMMENTERA UNDER, VARFÖR NI ÄLSKAR DEMI, SÅ SKICKAR JAG DET TILL HENNE PÅ TWITTER! :)
---
Demi i BOP MAGAZINE 2012
OMG jag vill ha den där affischen so so so baaad!!!!
---
En artikel om GYHAB! :)
Oh hey, my rascacielos! I'm Sam Lansky, pop music writer, and this is Pop Think, where I gush unapologetically about the pop stars who make my heart skip a beat. (Somebody should probably give it a break!) This week's subject is my girl Demi Lovato, who overcame some major personal obstacles to release last year's most devastating and triumphant ballad, "Skyscraper". Now, she's set her sights on continued success with her latest single, "Give Your Heart A Break," one of the most perfect pure pop songs in recent memory. Demi's track record of pop excellence remains unbroken, and I'm examining why "Give Your Heart A Break" is some of her best work to date.
Late last year, I tweeted that the way Demi Lovato's voice cracks on the word "in" at 2:49 of "Give Your Heart A Break" is the Greatest Pop Music Moment of the Year, and a bunch of people retweeted it; this proves that I was empirically correct. (That's how the Internet works, right?) In fact, since she's releasing that song as a single on January 24, it will probably be the Greatest Pop Music Moment of the Year in 2012, too. But seriously, pay attention to that one little moment in the song, because it sums up everything that's compelling about Demi Lovato as a musician: Even when she's singing well-produced pop songs penned by a cadre of super-hitmakers, there's a very personal vulnerability that underpins her artistry, something beautiful and sad and, ironically, a little bit broken, in the best way possible.
It was, after all, no accident that her last studio album was titled Unbroken, given the tumultuous year that precipitated that record's release. The first single, the gut-wrenching masterpiece "Skyscraper," was all about survival and triumph, but the album is much more sonically and thematically diverse than that: It's top-heavy with club bangers and party jams, including collabs with Missy Elliott and Dev, then bursting with shimmery pop and melodically charged midtempos in its second half.
But after a song like "Skyscraper," which instantly became Demi's defining cut, it was smart to go with a follow-up single like "Give Your Heart A Break," which packs a subtle emotional wallop in its own right. It's also a song about pain, even if it's more a song about romantic turmoil than the overcoming-the-obstacles inspirational bent of "Skyscraper."
Demi worked with some of the finest songwriters and producers in the game on Unbroken, from Timbaland's glitchy R&B on "All Night Long" to Toby Gad's emotive balladry on "Skyscraper," but "Give Your Heart A Break" has a pop pedigree that's legendary, literally: it was penned by Billy Steinberg and Josh Alexander, the songwriting duo responsible for several of the most iconic pop songs of the last decade, including hits for the consistently brilliant Australian sister act The Veronicas, and JoJo's pop epic "Too Little Too Late." Prior to his collaboration with Josh Alexander, though, Billy Steinberg wrote songs that defined the sound of a generation, like Madonna's "Like A Virgin," Cyndi Lauper's "True Colors," and Heart's "Alone" — songs that go down in the pop annals as some of the most brilliant and iconic tracks ever recorded. (Rolling Stone and MTV named "Like A Virgin" the fourth best pop song ever. No big deal or anything.)
And the production is, predictably, superb, kicking off with bold "Viva La Vida" strings and a toe-tapping snare before the chorus brings in a flood of violins. On the bridge, a piano twinkles, a little wistfully. But it's her voice that really kills on this song, a big, gorgeous rasp that's unexpectedly powerful and capable of delivering serious emotion. OneRepublic vocalist and A-list scribe Ryan Tedder said of Demi when they worked together on Unbroken, "I had no idea how good her voice is. She's one of the best singers I've ever worked with. Literally, that good… I mean, she's a Kelly Clarkson-level vocalist. And Kelly has a set of pipes." And like Kelly, Demi can pack spectacular vocal runs and chilling depth into a dense, uptempo pop track; she doesn't need the sprawling tempo of a ballad to show how well she can sing.
Especially when she's working with lyrics like the ones on "Give Your Heart A Break," which tell the story of courting a guy who's a little bruised. "The day I first met you/You told me you'd never fall in love," she recounts, before the chorus breaks out: "Don't wanna break your heart/Wanna give your heart a break." The wordplay around the term "heartbreak" is clever enough, but the song is full of poignant little moments like that, like the sadly affectionate way Demi exhales the term of endearment "My love" in the second verse, or the way the track drops out around her as she belts out the words, "Baby try to understand," revealing only the crushing power of her vocal, or indeed, that little break in her voice as the song is winding down around 2:49 (which really is amazing, if you haven't heard it yet).
But it's more than her just singing the hell out of "Give Your Heart A Break" (which she does). Ultimately, it's the sound of a lot of great parts coming together — the remarkable talents of the writers and producers, Demi's impressive inborn gifts as a vocalist, and the sophistication of the artist she's becoming, one who's capable of imbuing a vocal performance with extraordinary emotional texture and resonance. If she keeps on releasing songs like "Give Your Heart a Break," I think that's an artist we'll be hearing about for a long time.
---
Demi och Wilmer är fortfarande tillsammans?
Demi Lovato And Wilmer Valderrama reunited at Beacher's Madhouse on Jan. 18 in Hollywood, reports Life & Style: 'Right after Wilmer arrived, he made sure to say hi to Demi, who was sitting with Kim Kardashian. He kissed both of them on the cheek and Demi couldn't stop smiling. He kept making her laugh. They..
..couldn't keep their hands off each other. Around 2 AM, Demi grabbed Wilmer and hugged him. She kept her arms around him as they chatted with a friend. They definitely didn't seem to be over each another! They danced together to 50 Cent's 'In Da Club,' and she kept her arms around him the whole time.
They were facing each other, mouthing the lyrics to one another, and looked to be having a great time.. When Demi arrived, she went straight to Kardashians. It was so obvious that the girls were all extremely close friends, especially Demi and Kim. When Demi arrived, Kim was even happier and let loose.
The girls were just smiling and laughing together the entire time, Demi, Khloé and Kim danced to Kanye and Jay-Z's hit 'N----- in Paris' and then made sure to bring Ashley on with them.' The girls finally made their exit just after 2 AM.
---
Demis SEVENTEEN BLOG INLÄGG
Demi blog: I am so in love with my Seventeen cover! It is such an honor to be on the cover & I am thrilled. The photos are so beautiful & I had such an amazing time on the shoot. It took place at a house in Topanga Canyon in California and the views were breathtaking. I loved that the photos were shot outside in..
..such a beautiful setting. There was such a relaxing vibe to the place. I want to thank everyone that worked on the shoot that day and made it so much fun. I have been reading Seventeen since I was a kid. Although I have been on the cover before, I feel like this time it is even more special to me because..
..I am more confident and comfortable in my own skin. I can now be honest in interviews and show my true self to the readers. This cover is like a fresh start for me. It's a presentation of who I am right now and how I'm working on myself and continue to grow as a person. Thank you to all the readers! I had a magazine..
..signing at a Barnes and Noble and hundreds of you guys came out to visit me. What an amazing feeling to have so many wonderful fans and supporters. The issues of Seventeen even sold out in a few hours!! I am so lucky to have each & every one of you as a fan and friend. I love it when I get an opportunity to see all of your faces and hear your voices. Stay Strong! Love, Demi Lovato
---
Demi visar BH:n med en vän
Okej, så den här bilden har fått många fans att bli upprörda. Personligen, bryr jag mig inte. Hon ser vacker ut och hon är 19!!!
Vad tycker ni?
---
Demi med vänner i 'Lexington Social House'
---
Demi lämnar 'Standard Hotel' i West Hollywood [VIDEO] (17 JANUARI)
---
Demi lämnar 'Standard Hotel' i West Hollywood [BILDER] (17 JANUARI)
---
Demi PHOTOSHOOT MED TYLER SHIELDS
Jag kan inte vänta! Bilderna kommer säkert att bli roliga och galna, om man ska döma på vad han har skapat tidigare. Kolla under:
Lindsay Lohan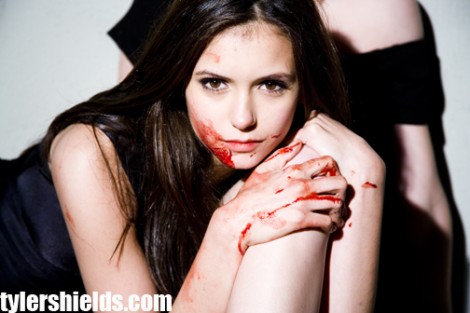 Nina Dobrev
Mischa Barton
Dianna Agron
---
DEMI I SEVENTEEN MAGAZINE
---
Bilder på Demi från 'The Beauty Book'
---
Demi och ett fan (Stalker Sarah) (15 januari)
---
DEMI KOMMER TILL EUROPA?
OMG DEMI KOMMER TILL EUROPA!!!!!!!!!!!!!!!!!!!!!!!!!!!!!! OMG OMG OMG! *FANGIRLING* JAG FLIPPAR UR! Ska ni gå och se henne om hon kommer till Sverige?
---
Demi lämnar Roosevelt Hotel i Hollywood (5 januari) [BILDER]
---
Demi lämnar Roosevelt Hotel i Hollywood (5 januari) [VIDEO]
---
Svar på gullig kommentar :)
Kommentar
Tid
Therese Anti (zoqblogg@hotmail.com) om SVAR PÅ TAL:

Hei, jeg er en blogger fra Norge som elsker bloggen din. Følger den hver dag, og synes du blogger kjempebra! Stå på! Siden jeg skriver norsk, så kommenterer jeg ikke så ofte, redd du ikke forstår. Håper du forstår denne gangen ihvertfall. Ville bare si at jeg er her og leser. - Therese Anti
Svar: Awe, sötaste kommentaren någonsin! Tack så jättemycket, den här kommentaren gjorde verkligen min dag! :') Tack för att du läser min blogg, och ingen fara, jag förstår vad du skriver ;) Kram!
---
SVAR PÅ TAL
Fråga: Vad är de du ser som är så speciellt me Demi lovato?

Svar: Haha omg, det här kommer bli ett ganska långt inlägg, men jag ska göra det så kort som möjligt. åt oss börja med att säga att hon är en otroligt talangful sångerska. Hon förtjänar så mycket mer uppmärksamhet än det hon får. Hon har gått igenom MYCKET i sitt liv, och hon är världens bästa förebild. Hon pratar öppet om vad hon gått igenom för att få andra tjejer att inse att det är okej att söka hjälp. Hon älskar sina fans, och vi älskar henne. Demi är mycket aktiv när det gäller välgörenhet, hon hjälper folk och hon använder sin röst till att göra världen till en bättre plats och att hjälpa unga flickor och stärka deras självförtroende. Hon är en person som man kan relatera till och allt hon gör är perfekt. Från sättet hon sjunger, dansar, går, pratar, ler till sättet hon skrattar, skämtar, springer. Hon inspirerar miljontals tjejer till att bli bättre personer och hon visar att man KAN älska sig själv och sin kropp. Det är några av anledningarna till varför jag älskar Demetria Devonne Lovato.


---
Personliga bilder på Demi (SÄLLSYNTA)
---
FÖRLÅT FÖR DÅLIG UPPDATERING!
Förlåt! Det har inte hänt så mycket med Demi idag.. Så därför får jag hitta på lite saker att blogga om... :)
---
DAGENS... (1)
Dagens OUTFIT!
Dagens BILD:
Dagens GIF:
Dagens LÅT:
---
PEACEMILEY!
Det här är tjejen som designade min bloggs, blogg. Hon gör inga designs gratis, men besök hennes blogg! :)
---
RÖSTA PÅ DEMI!! SNÄLLA KOMMENTERA OM NI RÖSTAR!
Rösta så många gånger ni bara kan! Justin leder, så rösta, rösta, rösta, rösta!!! :)
---
GIVE YOUR HEART A BREAK [Överasskningsshow, VIDEO]
---
Demi på PCA 2012 [PRESS ROOM, INTERVJU, VIDEO]
---
Demi- 'Jag saknar mina fans...'
---
DAGENS...
Dagens GIF:
Dagens OUTFIT:
DAGENS BILD:
DAGENS VIDEO:
---
RÖSTA PÅ DEMI!
RÖSTA PÅ DEMI!!! KLICKA PÅ BILDEN UNDER FÖR ATT RÖSTA, OCH SEN SCROLLAR NI NER TILL NR. 28. HON ÄR ETT SNÄPP UNDER SELENA GOMEZ!!
---
Demi tackar oss Lovatics
"My fans are EVERYTHING to me... My world, my life... Thank you SO much for my PCA!!!! FAVORITE POP ARTIST!!! YAYYY!!!"
Sen twittrade hon:
I can't believe I won.... Wow..
---
Demi twittrar en bild från PCA 2012
Hon twittrade: "
PCA's here I come!
Jordin Sparks, skrev asgulligt: 

"

@JordinSparks

:

@ddlovato

gorgeous girl! That's a great dress. Hugs your curves perfectly! You go mamas!" aww!! Thank you lady!!!
---
Demi har mycket planerat för 2012!
Demi kommer att vara med på Girls, American Idol och på The Voice. Det är bekräftat att hon ska uppträda med 'Give Your Heart A Break' på både American Idol och The Voice. Datum kommer snart! :)
---
Demi på PCA 2012 [UPPTRÄDANDET, VIDEO] 11 januari
---
Demi på PCA 2012 [TAR EMOT PRIS, VIDEO] 11 januari
"Thank you guys so much. This award is amazing. The nominees that I was up against are people that I look up to,"
she gushed on her acceptance speech.
"And I won this award because of my fans, so I dedicate this to you guys. ... Without you guys tweeting so many times I wouldn't be up here tonight."
---
Demi på PCA 2012 [UPPTRÄDANDET, BILDER] 11 januari
---
Demis accessoarer PCA 2012 [RÖDA MATTAN] 11 januari
---
Demis accessoarer PCA 2012 [PRESS ROOM]
---
Demi på PCA 2012 [PRESS ROOM] 11 januari
---
Demi på PCA 2012 [TAR EMOT PRIS, BILDER] 11 januari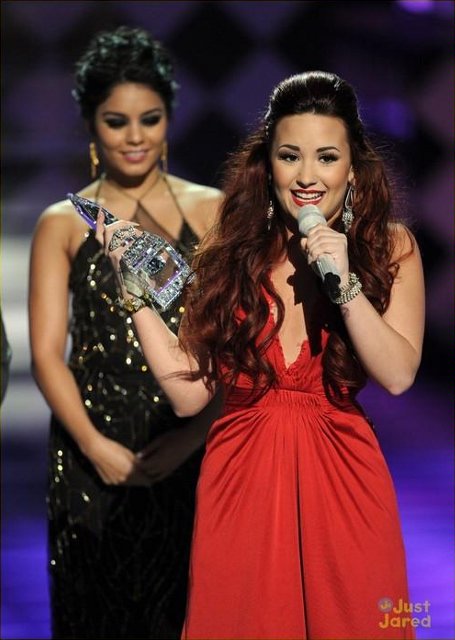 Demi och Vanessa Hudgens!
---
Demi på PCA 2012 [BACKSTAGE] 11 januari
---
Demi på PCA 2012 [RÖDA MATTAN] 11 januari
ASSÅ OMG, JAG DÖÖÖÖR!! HON ÄR SÅ VACKER! GÅR DET ATT VARA FINARE? HON VANN FAVORITE POP ARTIST! Asså jag är så glad just nu, hon vann över Beyonce, Rihanna, Katy Perry och Lady Gaga!! Alla mina röster var värt det! :)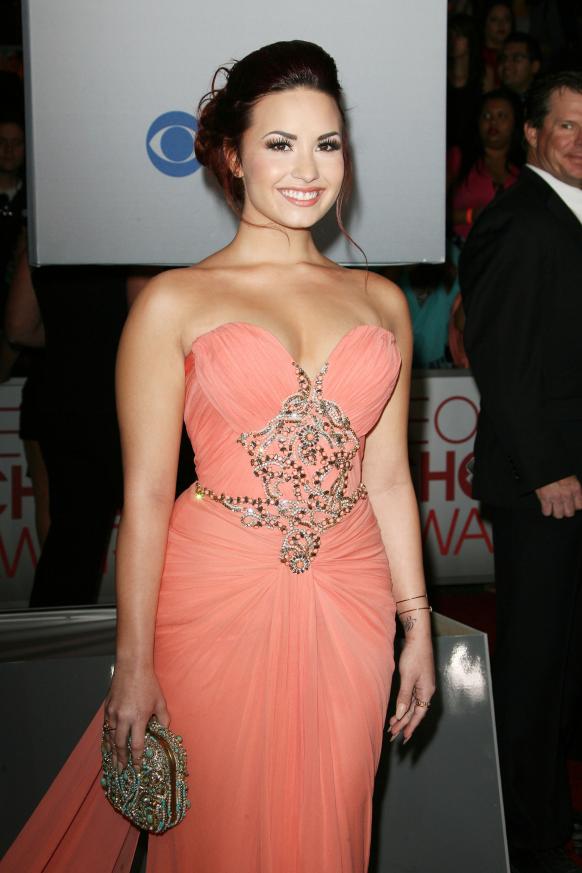 ---
PCA lägger upp en bild på...
Demis dörr till hennes omklädningsrum! :)
---
RÖSTA!!! Vilken outfit är finast?
OUTFIT NR 1: En lite mörkare och rockigare stil. Såhär klädde sig Demi ofta under 2010. :)
OUTFIT NR 2: Min personliga favorit. Asså hon är så fiiiin!!! En mer fashion, och uppklädd stil, men ändå ganska vardaglig.
OUTFIT NR 3: Så fin här med! En ledig stil, men ändå passande för fest.
---
Svar på tal
Fråga: kan man köpa den i sverige? :)
Svar: Hej! Nej, tyvärr så tror jag inte det, för att tidningen är från Urugay :(
---
DAGENS...
OUTFIT:
GIF:
VIDEO:
---
Photoshoot från 2009 [BILDER]
Det finns inte så mycket att blogga om idag, så därför bjuder jag på en photoshoot istället :) Enjoy!
---
Demi i GLAMOUR Januari 2012 [BILDER]
---
Demis POSETIVLY POSETIVE video
---
Vart kommer Demi sitta på PCA 2012?
Demi kommer att sitta framför Adam Levine på PCA 2012. Asså jag blir så sur när jag ser att de stavat hennes namn fel. Hon ska uppträda där, de kan väl åtminstonne lära sig hennes efternamn?! -.-
---
DEMI OCH WILMER HAR GJORT SLUT?!
Enligt
E! News
, så har Demi och Wilmer gjort slut!
Åldersskillnaden, 19 and 31, var för stor skillnad för de. Demi Twittrade: 'A wise girl kisses but doesn't love, listens but doesn't believe, and leaves before she is left.. The smartest thing a woman can ever learn, is to never need a man.'
Joe Jonas och Wilmer sågs ute påBeacher's Madhouse revue i Hollywood där de festade tillsammans, men Joe stack iväg när Demi kom. Wilmer var där för Demi under hennes behandling, och han tröstade henne när hon hade gjort slut med Joe.
Vad tycker NI? Är det bra att de gjorde slut eller var de perfekta för varandra? KOMMENTERA!
---
Demi övar inför PCA!


Så excited!!
---
Demi på omslaget av Upss!
---
Demi twittrar om kärlek
---
Svar på tal
Fråga: Det handlar inte om att gå ut på klubben!Demi skrev att hon å några av hennes kompisar går på typ Zumba/latino dans elr någon liknande !

Svar: Det där Latin-dans grejen, twittrade hon om för länge sen. Det om klubben twittrade hon om 8 januari, samma datum som hon var där. Så det handlade om klubben.


---
Demi twittrar om klubben hon var på
Tänk er Demi på klubben: 
---
Demi lämnar en klubb (7 januari)
Demi sågs lämna Lexington Social Club efter en Sober Is Sexy soaré, i förrigår, i Hollywood, CA.
---
IF YOU'RE HERE FROM TWITTER....
---
Demis Seventeen Photoshoot
---
Demis Seventeen Cover
Vacker!
---
Fler bilder på när Demi signade Seventeen covers
---
Demi twittrar om Gud
Hahahhaha Miley's tweet asså. :)
---
Demi på Seventeen Launch
---
Demi's intervju med Seventeen
Demi om alkohol: 'Jag tycker att nyktert är sexigt. Det är coolt. Det är mycket coolare att kunna stå emot andras påverkanden, än att gå under inflytandet.'
Demi om Eminem:
Förhoppningsvis kan jag jobba med Eminem. Han är min favorit rappare så någonting med honom skulle vara fantastiskt.
Demi om att vara en förebild: Mitt hela mål i livet var att bli en sångerska, men nu har det fått en helt ny innebörd. Nu hyllar jag en helt ny mening till min karriär, och det är att vara en inspiration. Jag tror att jag har fått en röst för en anledning. Allt hände för en anledning, det är inget sammanträffande att jag har gått igenom mycket när jag var yngre.
Demi om sin kropp: Jag ska inte vara smal som en pinne. Min kropp är inte byggd på det sättet. Jag tycker att jag har en bra rumpa. Jag har inga bröst, men jag har en rumpa!
Inga bröst?
---
Demi i 'Teens For Jeans' kampanjen
---
Demis intervju med Just Jared!
JJ
:
Vilka egenskaper
söker du hos
en
vän?
Demi
: Vad
jag ser fram emot
i
en
god vän,
är bara
människor som jag
kan lita på och
som
är ärliga
mot mig
och folk
som verkligen är
öppna.
Människor
som inte är
rädd för att
berätta att
min rumpa
ser stor ut
i en klänning
(skrattar).
Jag letar också
efter människor
som jag
verkligen kan lita på, när det gäller,
värdefull information
.
JJ: Du var
fantastisk
på
det 'Latin
Grammys', när du uppträdde
på spanska.
Skulle du kunna tänka dig att göra
ett spanskt
r album
i framtiden?
Demi: Kanske. Det skulle vara häftigt!
JJ
: Du
ser fantastisk ut
på det nya
omslaget till
Seventeen
!
Demi
: Tack!
Det är en stor
ära.
Jag är verkligen
välsignad att
vara en bidragande
redaktör
och att vara
att den unga
rösten för
människor som
behöver höra
någon
tala om
frågor som de
har kämpat
med.
JJ

:

Du hade

en hel del framgångar

under 2011

, vad är 

du ute efter att

göra härnäst

musikaliskt

?


Demi

: 

Musikaliskt

vill

jag 

göra

något som har att

göra med

Grammys

en dag,

så det är

på min

lista

.

Att bli nominerad

eller vinna

en

, 

eller något,

jag vet inte

, det skulle det vara dröm som kom i uppfyllelse 

för

mig.
JJ
: Vilken
låt kommer
du att
sjunga på
People's
Choice Awards
nästa vecka
?
Demi
:
Jag kommer att
uppträda med
min nya
singel "Give Your Heart A Break
.
"
---
Demi om Miley och annat
Demi om Miley: Miley och jag är envisa. När vi bråkar, bråkar vi brutalt och säger saker som, "Vi kommer aldrig att vara vänner igen!" Men två dagar senare säger vi, "Jag älskar och saknar dig!"
Demi om droger och alkohol: Jag ska inte ljuga. Jag gjorde saker som att dricka och använda droger, som många tonåringar gör för att deras smärta ska försvinna. Men nu så dricker jag inte, jag gör inte droger, jag kräks inte efter att jag har ätit och jag svälter inte mig själv. Nu gör jag inget som jag skäms över.
Jag är så stolt över henne. :')
---
Svar på tal
Kommentar
Tid

Är det du som har gjort headern?
Svar: Nej, det är peacemiley.blogg.se som gjort hela designen
---
Demi på Seventeen SIGNING (4 Januari)
Demi var på en signingsevent där hon signade flertal tidningar.
---
Demi lämnar sitt hotell (31 december)
---
Demis PHOTOSHOOT med 'Seventeen Magazine'
---
Demi på Seventeen Magazine event
---
[BILDBOMB] Demi hostar NYE in NYC 2012
---
Demi lämnar sitt hotell och tar bilder med fans
---
Demi träffar fans (30 december) [ VIDEO]
---
Demi och fans
---
Demi- 'Ingen kyss för mig...'
---
Demi sjunger GYHAB Live på MTV's NYE In NYC 2012
---
Demi och Selena på MTV NYE NYC 2012
---